RTPs in Online Slot Games
Slot games can be tons of fun as you might know, but they can also be tremendously rewarding if you're smart about your game choices. You've probably already come across the term 'RTP', and this page will give you all the necessary details on this crucial number. In short, when speaking of slots, we address the return to player percentage as the estimate of how much of the wagered amount the slot will pay back to the player in the form of wins. An important thing to note here is that with online slots you're facing a much higher RTP than with land-based slot machines. While brick-and-mortar casinos will be hard pressed to offer you anything above 90%, that's the bottom margin at online casinos, going up to nearly 99% in best cases.
Check out some of the best-paying slots in William Hill Casino!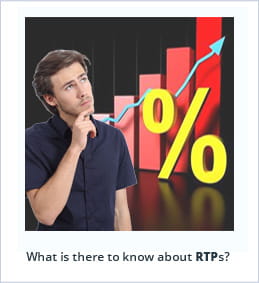 General Online Casino RTPs at a Glance
As far as land-based slot machines go, UK regulations which are actively enforced by the UK Gambling Commission ensure that each machine is not only tested for technical standards, but it must also prove that the advertised RTPs indeed hold true. Implementation of controlling and auditing policies is also a must-have. These criteria are no different for online slot games. Every online casino looking to provide gaming outlets to UK customers is thoroughly vetted. Their slot games undergo the same, if not more rigorous, screenings to determine the accuracy and validity of payout rates.
But the biggest difference between land-based and online casinos is in how high online slot RTPs get in comparison with land-based machines. Mid to high 90s are common online due to the fact that the virtual casino market generates a much stronger need for competitive offers, pushing RTPs higher in a bid to gain more players. To drive this point home, here are some of the best-paying slots on the online gaming scene, along with their providers. For more information on these and other games and game providers, check out our general overview of slot games.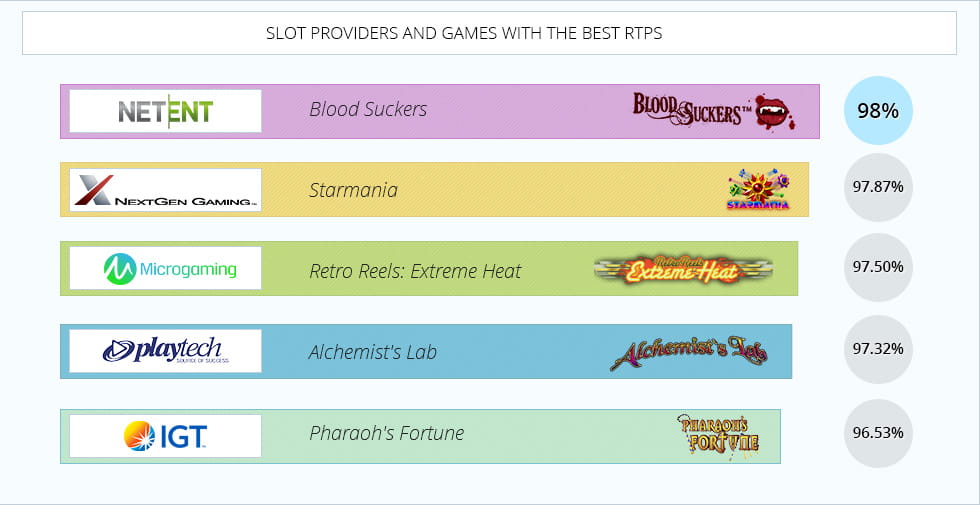 The biggest trigger for better payout rates in online slot games is the simple reality of operating costs. Land-based casinos are generally looking at huge overheads – from actual space for machines, to utilities, to regular upkeep and maintenance by employees, not to mention additional spending thanks to malfunctions or defects. Online gambling destinations don't face as many of these obligations and are thus able to general more profit – which, in turn, allows them to be a bit more forthcoming towards their players.
To provide a better insight into their standards, casinos sometimes publish an overall RTP percentage for all games on the site. This is a quick and easy way to get general information on how your casino of choice fares in the payout department. Nevertheless, since this is an overall average, you should be aware that it includes non-slot games as well and that there are outliers in either direction. So the best course of action is to still check out individual RTPs of your selected games. These you can find quite easily – some casinos may provide a detailed list, or you'll find the percentages in-game, when you enter the Info or Settings sections of a slot.
The Impact of RTPs on Your Gambling Experience
.

.

High RTP games
Huge offer of jackpot slots
RTPs certified by GLI
So why, precisely, are these numbers so important? After all, aren't slots purely based on chance, meaning that you either win or you don't and that's it? Well – yes, it is indeed pure luck that bestows a spectacular payout onto you, and it's true that a big payout would make your return to player rate way over 100%. However, the chances of you scoring a big win right away on just small wager investment are highly unlikely. Likewise your chances of hitting a second big win just a few rounds after the first one are, realistically speaking, slim – you'll most likely have to keep betting for quite a while until the next one comes around. Furthermore, the particular layout, features and extras of the game also influence how much of your invested money you get back over an extended period of time.
The principle behind this is the following: online slots run on a random number generator-based software, which creates combinations out of thousands of possibilities. The bigger the reel grid, the more combinations are possible – which is also why bigger slots offset the lower chances by giving you 20 or more payline possibilites. As you play, your big win(s) are probably preceded and/or followed by periods of many smaller losses. These two types of momvement reflect on your game balance, going down and up as you play. Combined over a longer play period, what you've spent versus what you've gained created the overall RTP percentage. This means that you must play over an extended period if you want to see whether the RTP advertised truly reflects the advertised overall loss/win ratio.
To be on the safe side, follow our previous advice and always check the RTPs of before you start playing. Though you won't influence the outcome of the game, you'll be better equipped in knowing what to expect, and you might even train yourself in spotting the best RTPs the online slot world can offer.
Can I Test the Rate Validity Myself?
GLI – Where the game begins®
Information:
Company:
Gaming Laboratories International
Established:
1989
Address:
600 Airport Road Lakewood, NJ 08701 United States
Website:
www.gaminglabs.com
Apart from informing yourself about the return to player percentage of a particular game, there's no convenient way for you as a player to check and calculate whether the number you found really holds true. In fact, it'd be quite a tedious task and we don't imagine many players wanting to go through these rigorous steps of calculating returns on their own.
Luckily, players needn't worry about this issue because RTP verification is typically already taken care of as a part of the monitoring and testing standards all online casinos are subjected to by the UK Gambling Commission. There are a couple of testing agencies that perform these checks, and safe and reputable online casinos worth their salt will always be subjected to fariness screening by one of them. Let's have a closer look at one of the biggest monitoring authorities out there: GLI.
This US-based company dates to 1989, with entry into the online gambling market in 1993. Their long-standing experience, expertise, and scope of work eventually led to a merger with TST, Another testing giant. Assessment of online gambling outlets as well as land-based technology belong to GLI's list of services, in addition to supplementary measures like risk and compliance or modernisation. Casino.com is one of the many recepients of GLI's testing services – you can find out more in our brief review.