TERMS OF USE
Please, read these Terms of Use ('Terms') carefully and in their entirety before using this website ('Site'). The Terms apply to all visits and use of the Site and the Content (as defined hereafter), information, reference, advice and/or services the Site provides to you. By accessing and using the Site, you acknowledge your consent to these Terms of Use in their entirety in addition to any other applicable law or regulation.
Ownership of Content
The Site and all the content featured or displayed on it is owned and operated by BestOnlineCasinos.org.uk ('Owner'). The content includes, but is not limited to, text, graphics, photographs, images, moving images, sound, illustrations and software ('Content'). All elements of the Site including, but not limited to, the general design and the Content, are protected by copyright, moral rights, trademark and other laws relating to intellectual property rights. Except where explicitly permitted by the Owner in advance and in writing, no part or element of the Site or its Content may be copied or retransmitted by any means and the Site, its Content and all related rights shall remain the exclusive property of BestOnlineCasinos.org.uk.
Copyright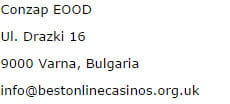 The copyright in all Content is and remains with the Owner. Except as may be otherwise indicated in specific documents within the Site, you are authorised to view, play, print and download documents, audio and video found on the Site for personal, informational, and non-commercial purposes only. You may not modify any of the materials and you may not copy, distribute, transmit, display, perform, reproduce, publish, license, create derivative works from, transfer or sell any Content. Except as authorised under the law relating to copyright, you may not reuse any Content without first obtaining the consent of the Owner. For the purposes of the present Terms, the use of any such material on any other website or networked computer environment is prohibited. You will not remove any copyright, trademark or other proprietary notices from any material found on the Site. In the event you download software (including but not limited to screensavers, icons, videos and wallpapers) from the Site, the software, including any files, images incorporated in or generated by the software, and data accompanying the software (collectively, the 'Software') are licensed to you by the Owner. The Owner does not transfer title to the Software to you. You own the medium on which the Software is recorded, but the Owner retains full and complete title to the Software, and all intellectual property rights therein. You may not redistribute, sell, decompile, reverse engineer, disassemble, or otherwise reduce the Software to a human-readable form.
Disclaimer of Warranties
The Site and the Content on it is provided 'as is' and without any warranties of any kind, whether express or implied, including but not limited to, implied warranties of satisfactory quality, fitness for a particular purpose and non-infringement, to the fullest extent permitted by law. The information on the Site is for general information purposes only and does not constitute advice, consultation or prescription. The Owner does not represent or warrant that the information and/or facilities contained in the Site are accurate, complete or current, or that the Site will be uninterrupted or error free, or that any defects in the site will be corrected or that the Site or the server that makes the Site available are free of viruses or any other harmful components. The Owner does not make any warranties or representations regarding the use of the materials on the Site in terms of their correctness, relevance, usefulness, reliability or otherwise. The Owner reserves the right to suspend or withdraw the whole or any part of the Site at any time without notice and without incurring any liability.
Limitation of Liability
Your use of the Site is at your own risk. The Owner will not be liable for any direct, indirect, special, consequential or other damages that may result from the use of, or the inability to use, the materials on the Site, including damages caused by viruses or any incorrectness or incompleteness of the information on the Site, or the performance of the products, even if the Owner has been advised of the possibility of any such damages. Such damages may include, but are not limited to: a) loss of data, b) loss or revenue or anticipated profit, c) loss of goodwill or injury to reputation, and d) losses suffered by third parties. You acknowledge and agree that you assume full responsibility for any such losses.
Links to Third Parties
For your convenience and to improve the usage of the Site, links to websites that are owned and controlled by third parties may be provided from time to time. These links take you outside our service and away from our Site. Therefore, they are beyond the Owner's control. Such third-party sites have their own privacy policy and terms of use, and although we try to protect the integrity of our Site, the Owner is not responsible and cannot be held liable for the content and activities of those sites. You visit/access them entirely at your own risk. Please note that these other sites may send their own cookies to users, collect data or solicit personal information, and you are therefore advised to check the terms of use and/or privacy policies on those websites prior to using them.
Liability for Third-Party Content
The Owner in under no legal obligation to monitor third-party information displayed, provided or stored on our Site. However, we shall remove any content violating the law. Our liability in that relation shall commence at the time we become aware of the respective breach.
Privacy Policy
Generally, the Owner of this Site (as defined in the Terms of Use) respects the privacy of every individual who visits our Site. This Privacy Policy outlines the information the Owner may collect and how we, as the Owner of the present Site, may use that information. Reading it as carefully as possible is your responsibility and sincerely recommended as issues discussed here concern you in a significant way.
Personal Data
The Owner will not collect any personally-identifiable information about you (e.g. your name, address, telephone number or email address ('Personal data') through our websites unless you have provided it to us voluntarily. If you do not want your personal data collected, please do not submit it to us. When you provide us with personal data, we may use that information in the following ways, unless stated otherwise: we may store and process that information to better understand your needs and how we can improve our products and services; we (or a third party on our behalf in connection with a promotion) may use that information to contact you; and/or we may provide other third parties with summary – but not individual – information about visitors to or users of our Site. We may include your questions, comments, opinions, or reviews voluntarily submitted on this Site for others to see. We will also include the name you give us, which is a nickname/user name but not your email address. We do not currently and do not intend to sell, rent or market personal data about you to third parties.
Additional Information Collected Automatically
In some cases, when you connect to our site, the Owner may automatically (i.e. not via registration) collect technical information that is not personally-identifiable. Examples of this type of information include the type of Internet Browser you are using, the type of computer operating system you are using and the domain name of the website from which you linked to our site.
Info Placed Automatically on Your PC (Cookies)
When you view our Site, there may be cases of some information stored on your computer. This information will be in the form of a 'Cookie' or similar file and is used by the third parties to whose sites we link. We, as the Owner of this Site, have no influence over third-parties sites and content, so we cannot restrict that. With most Internet Browsers, you can erase Cookies from your computer hard drive, block all Cookies or receive a warning before a Cookie is stored. Please refer to your Browser instructions or Help screen to learn more about these functions. You may refuse the use of cookies by selecting the appropriate settings on your browser.
Responsible Person
If you have any suggestions for topics we don't currently cover or any suggestions at all on how we can improve this page then please don't hesitate to contact us as all suggestions are welcome. We constantly strive to ensure all information contained on this site is both factual and up-to-date, if you find any inaccuracies then please send feedback to Liam Doyle, who is our online casino editor and will rectify any mistakes.
Amending the Privacy Policy Terms
The Owner remains in his full right to make any amends and alterations to the present articles of Privacy Policy and Data Protection provisions without any prior notice and without any liability as to justification of his actions thereof. Users are encouraged to check this page for changes. Please, remember to come back to the page and get informed. In case of any doubts, don't hesitate to contact us.