A Beginner's Guide to Blackjack Rules and Strategy
Blackjack, the most widely played casino banking game in the world, has been enjoyed by gamblers for hundreds of years. Whilst the origins of the game (also known as twenty-one) are unknown, variations on the blackjack rules we know and love today are documented in France and Spain as early as the 17th century.
Page Topics: One Click Away!
The secret of its success is simplicity. The rules of blackjack are easy to learn, fair for players, and the game is fast-paced. Play a little longer though, and you'll discover a strategic depth that continues to draw a huge number of gamblers from high-rollers to weekend chancers. If this is your first plunge into the world of twenty-one, stick around and let me walk you through how to play blackjack.
Information About Blackjack

| | | | | | | | |
| --- | --- | --- | --- | --- | --- | --- | --- |
| Alternative Names | Twenty One | No. of Cards Used | 52 to 416 | Random Chance | High | Strategies | Yes |
| Category | Card Games | No. of Players | 2+ (usually 2-6) | Difficulty | Low | Skills Needed | Observation, Strategic Thinking, Discipline |
Blackjack Rules and How to Play
One of the biggest appeals of blackjack is its simplicity. Players flock to blackjack tables, be they in brick-and-mortar casinos or online establishments, because they know they are guaranteed a good time regardless of their experience as gamblers. If you've never played before, this section will walk you through the basics.
The Blackjack Table
Blackjack is played on a semicircular table. The dealer faces two to six players, and is the only person to handle cards during the game. The playing surface is marked with various areas for placing bets. Each player has an area for stacking chips to opt into each round of betting. The rules of blackjack are often also printed on the cloth.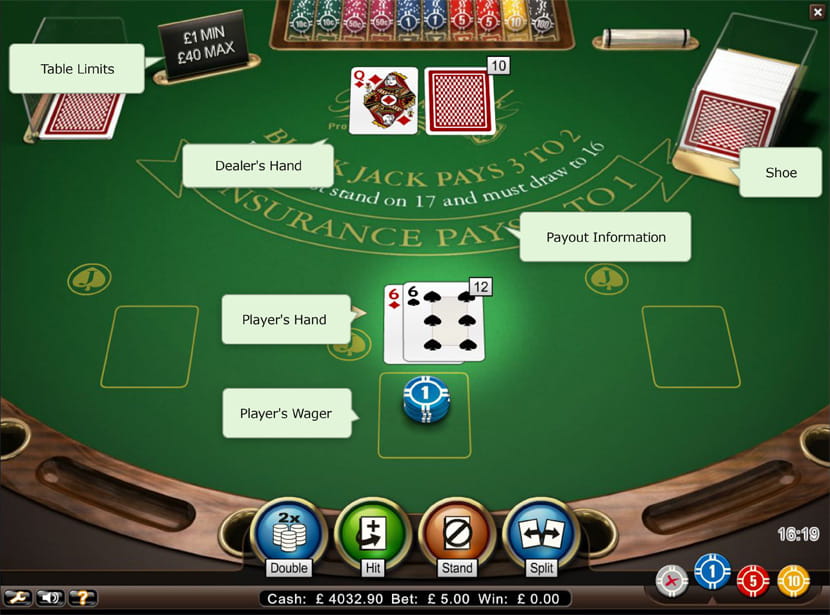 Cards:

The number of cards used in a game depends on the game, but usually there will be a large stack of cards made up of more than one 52-card deck.

Chips:

Bets are made using counters known as chips. Different colours denote different values, which will usually be shown clearly at the bottom the screen in online games.

Shoe:

The dealer usually will draw the cards from a device known as a shoe. This allows for quicker and easier dealing and removes any doubts about card manipulation. While multiple decks may be placed in a shoe, most casinos will use a cut card in order to indicate that it is time for a shoe change when there is a certain number of cards left. This is done to reduce the efficacy of card counting.

Cut Card:

A card that is easily distinguishable from the rest of the playing cards, which is placed at a specific location in the deck in order to control when shoe changes are needed. Discard Tray: Cards that have been used are not always placed back into the shoe. Instead, they form a discard pile in a tray on the other side of the table, so as to avoid confusion.
In between the dealer and the players' betting boxes, is the insurance box – more on taking out insurance later – and, depending on the operator, a description of the dealer's restrictions may be written too. Finally, the blackjack payout information is displayed closest to the dealer.
Understanding Card Values
The numerical value of each card in the rules of blackjack is nice and straightforward. Numbered cards are valued as presented, with all picture cards (Jacks, Queens and Kings) counting as 10 each. Aces are counted at either 1 or 10, depending on which is best for the player in any given situation. Aces can change their value mid-round if beneficial to the player.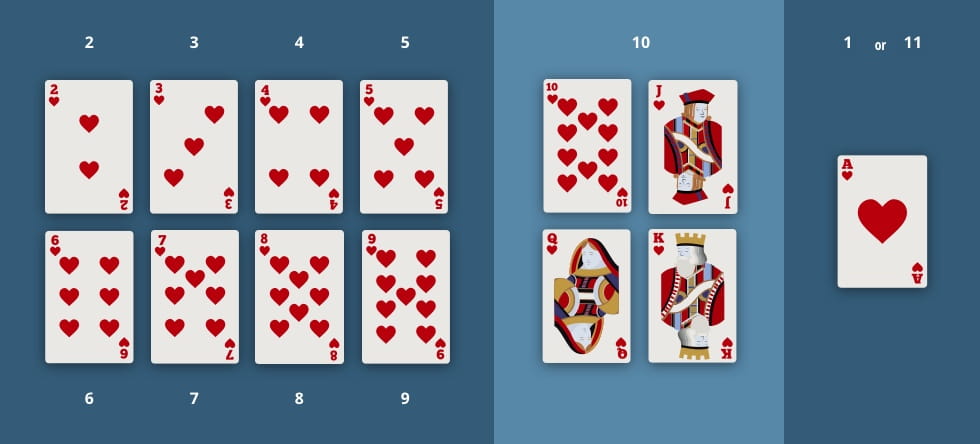 How to Play Blackjack
The goal of blackjack is very simple: Each player faces the dealer in a head-to-head duel. Closest to 21 with two or more cards wins. Players around a blackjack table do not play against each other, it's everyone against the dealer. Each betting box on the table represents a hand. Experienced players will often play multiple hands at once by placing bets in adjacent boxes.
Dealing clockwise, each player receives two cards face up. The dealer also receives two cards, but only one is revealed to players at first. If you are completely new to blackjack rules, you may find my guide to blackjack terms useful before continuing. The dealer calculates the value of the hand in play and offers two options – stand or hit, stick or twist. Players can decide to stand, and take their chances with what they've got, or they can hit, and take another card from the top of a pre-shuffled deck. It's a delicate balance. Play too safe, and the dealer can beat your hand too easily. Take too big a risk, and you'll go bust! All winning bets are paid at evens. If players are dealt a hand worth 21 points in the hole, blackjack is announced, and an instant win is called. Blackjack pays out higher odds than regular wins, usually at 3 to 2.
Interesting game variants
Big selection of live tables
Live bonus available
Full T&Cs below
. Minimum deposit of £10, x45 wagering, Roulette and blackjack 50% weighting. Bonus Valid for 7 days. Not available to customers using Moneybookers/Skrill or Neteller as a payment method.
A third action is available to players dealt matching cards in the hole. The option to split a pair of matching cards into two hands mid-round is called, unsurprisingly, splitting. The player is responsible for matching the stake on the second hand. This option is particularly popular with players holding two aces, as a maximum score of 12 is not strong, and splitting creates the chance of a double blackjack.
Finally, players can take the option to increase the original bet by 100% in exchange for only receiving one more card. This practice is called doubling down, and is a popular move for players holding 11, increasing the stakes whilst hoping to catch a 10 and hit 21. Only once all players are either standing or bust will the dealer play. Finally, losing bets are scooped up, and winning bets are paid out. A single round of blackjack can take anywhere from 1 to 10 minutes, depending on the play.
Basic Blackjack Strategy
The basic strategy for blackjack is pretty straightforward. Take a look at our guide to basic blackjack strategy below, just to give you an idea of how to play 21 depending on your hand. Remember, what the dealer is holding is just as important as what the player is holding in blackjack, so pay attention to your opponent. If you're primed and ready for something a bit more advanced, feel free to check out our page on card-counting.
Basic Blackjack Strategy – The Simple Way to Play

| Total of Your Hand | Our Recommended Approach | % Chance of Bust On Hit |
| --- | --- | --- |
| Less than 8 | Always hit | 0% |
| 9, 10 or 11 | Double Down or hit | 0% |
| 12 | Stick if the dealer has 4 to 6, otherwise hit | 31% |
| 13 to 16 | If the dealer has 2 to 10, then hit | 39 – 62% |
| 17 or higher | Always stick | More than 69% |
| A-8 and A-9 | Always stick | 85% – 92% |
| АА | You should split and play two hands | 0% |
| Two 10s | Never split two 10s, always stick | 92% |
| Two 7s | If the dealer has 2 to 7 you can split, otherwise hit | 56% |
| A-4 | If the dealer has 4 to 6 you can stick, otherwise hit | 58% |
Restrictions on the Dealer
Like all casino games, blackjack rules incorporate a 'house edge'. The dealer's advantage over players in the rules of blackjack stems from position. The dealer always plays last. This means that if your hand goes bust, you lose despite the outcome of any subsequent hand. In short, if both the player and the dealer go bust, the house still wins. However, unlike the player, the dealer is bound by a strict set of rules. This makes the dealer predictable, and therefore beatable. If the dealer's hand is 16 or less, the dealer must hit. If the dealer's hand is 17 or higher, the dealer must stand. Hitting on a 16 is risky, anything over 5 will bust the dealer. Whilst standing on 17 leaves room for defeat to higher hands. These restrictions give blackjack players room for strategy, making blackjack one of the fairest games you can play at an online casino.
Other Rules and Features
There are some additional rules and features that might change things up a bit in your game. It's important to be aware of these before you choose a table, so you can ensure that you're playing a game that suits your needs and playing style. Familiarise yourself with the table layout and learn the game rules. We've outlined some of the features you're likely to come across below.
Different Deck Numbers

Typically, in online casinos you'll find games that play with multiple card decks, usually as many as six or eight. This is done to increase the house edge, as the house edge increases with each additional deck. This is something to keep in mind when understanding how likely it is that you'll win.

Doubling After Splitting

As mentioned in the previous section, when players choose to split their hand they can then double down on their wager. This move is usually recommended for experienced players, as it is quite risky. If you do choose to double after splitting, just remember that you won't be able to hit on that hand again.

Re-Splitting Aces

This feature comes into play when a player splits a pair of aces. If one of the new hands also contains a pair of aces, the player is permitted to split again. This feature is quite rare, as it significantly shifts the advantage in the favour of the player.

6 to 5 Blackjack

It is possible for a game developer to boost the house edge of a game by changing the payout. Typically in casinos, a player's blackjack will yield a 3:2 payout, but developers will sometimes lower this to 6:5 or even money to improve the house edge or to make the game more balanced.

Continuous Shuffling Machines

Continuous shuffling machines are used to protect against card counting, both in land-based casinos and online. In fact, all online automated games use continuous shuffling. This way it's impossible to predict which card will be drawn next. Though card counting is not illegal nor against the games' rules, you will still find features like these that protect the house edge against card counting.

Deck Penetration

You might also come across the term "shoe penetration", but it refers to the same feature. This relates to the number of remaining cards that are cut off by the cut card in the shoe. Whenever the cut card is reached, the deck or shoe is changed, meaning the remaining cards will not be dealt. This makes it more difficult for card counters.
Learning Advanced Blackjack Rules
That covers the basics, but there are some other interesting rules in blackjack that can spice up your gameplay. Read below to learn more.
Insurance
In the event of a dealer being dealt a visible ace in the hole, players are given the chance to take out insurance. Insurance is a separate bet, placed to soften the blow of defeat. It pays 2:1, meaning that the player has a chance to recoup some of the chips lost in the event of a dealer blackjack. In traditional blackjack, a player can wager up to half the amount of their original bet as insurance, though this may vary with more modern variation of the game.
Split
"Splitting" refers to a rule which allows players to split their first hand into two hands. This is only done if the first two cards are a pair. If a player chooses to split, they must make an additional bet of equal value to their original bet for the second hand. In online games, the bet will be taken automatically.
Double Down
After receiving their first hand, players are sometimes permitted to double their bet when they hit. It's a risky move, as it means the player won't be able to hit again on that hand. Though it's only possible to make this move on certain scores, it can result in high returns.
Bet Behind
This rule only applies to live online blackjack games or games of blackjack being played in physical casinos. It comes into play when a table is full, but additional players still want to join the game. The additional players are permitted to "bet behind" a player currently sitting at the table, wagering on the hands in play. This means they have no say over the in-game action, but can still reap rewards.
Surrender
This rule allows players to forfeit their hand before they receive any additional cards, and usually comes into play when the dealer's up-card is an ace or a 10-value card. It's also commonly referred to as a "late surrender", as it is performed only after the dealer has checked for blackjack.
Understanding Side Bets
If you're looking for a little more bang for your buck, you can always look into side bets. Side bets usually come with low minimum bets, but their payout rates are significantly lower than straight bets. We've outlined some of the most common side bets below, but you can find a full run-down of side bets and their RTPs in our downloadable guide.
Perfect Pairs

This is, perhaps, one of the most simple side bets you'll come across. Perfect Pairs rewards players depending on the pair of cards they've been dealt. A "perfect pair" consists of the same colour and suit, while other pairs like mixed colours and suits or same colour and mixed suits will also yield payouts. Payouts range from 5:1 to 30:1, and the RTP sits at around 94%.

Buster Blackjack

Buster Blackjack stands out from other side bets as the player only wins when the dealer busts. This happens even if the player themselves has already busted. The payout depends largely on the amount of cards drawn by the dealer before they bust. For example, if the player has blackjack and the dealer busts with over 8 cards, the payout is 2,000:1. This side bet usually carries an RTP of 94%.

Lucky Ladies

Lucky Ladies has one of the lowest RTPs of any side bet at just over 86%, so you might be wondering why it remains popular. It's all thanks to the high payouts. The goal is to have a hand that equals 20, with two queens being the best outcome. If a player has a hand containing two queen of hearts, they'll receive a payout of 200:1. If they have two queens and the dealer has blackjack, the payout reaches 1,000:1. So, though the RTP is low, the potential winnings are enormous.

21 + 3

One of the most common side bets across blackjack variants is 21+3. This side bet mashes up blackjack and poker, allowing for the dealer's up-card and the player's hand to be played like a hand of Three Card Poker. If the player has a flush, straight, straight flush or three of a kind, they win. You can expect an RTP of just over 96% for this side bet based on a game played with six decks, and the payouts range from 5:1 to 100:1 depending on the value of the hand.

Suit'em Up

Suit 'em up is another side bet favoured for its simplicity. Basically, the player wins when their first two cards are of the same suit. The RTP for this sidebet stands at around 96.5%, and payouts depend on the pair with suited aces receiving a payout of 60:1. Other combinations can reach anywhere from 2:1 to 10:1.

Lucky Lucky

Lucky Lucky is another side bet that combines the player's hand with the dealer's up-card. The goal is to create a hand that totals 19, 20, or 21 but players will receive bonuses depending on the composition of the hand. For example, a hand consisting of suited 7s will receive a payout of 200:1, while a hand of 6-7-8 of the same suits will receive 100:1. Other combinations will fetch anything from 2:1 to 50:1. The typical RTP across six decks for this side bet is 97%.
A Brief Overview of Blackjack Variants
There are many blackjack variants to be found across casinos, and all of them have their own advantages and features. One of the reasons behind the game's enduring popularity is its diversity. That said, not all games are created equal. RTPs and more will differ across variants, so it's important to know what you're letting yourself in for beforehand. Below are just some of the most common blackjack variants.
Switch

In a game of switch, the player is dealt two hands. They can then switch the top cards of each deck to boost their chances of having a good hand. In this variation, blackjack pays even money only and all hands are pushed if the dealer scores 22. The only exception to this rule is when blackjack is reached with the first two cards, i.e. a natural blackjack.

Duel Blackjack

In Duel Blackjack, the player is dealt an open and a hidden card. Both of the dealer's cards remain hidden, and two additional community cards are dealt to the middle of the table. Players have the choice to fold and lose their ante or play and take another ante. Once they've chosen, the player can take a community card. The dealer follows and takes a community card, and then the hands are revealed. Though the RTP for this variant is typically lower than traditional blackjack, the advantage lies in giving the player first choice of a community card.

Pontoon

Pontoon is a variant that originated in Asia, and sees the player attempting to reach a higher card count than the dealer before they go bust. Instead of 21 amounting to blackjack in this game, it's instead called pontoon. None of the cards are open, and remain concealed while in play. This makes the game more interesting than traditional blackjack, as it gives the player fewer ways to determine their next move.
A Brief History of Blackjack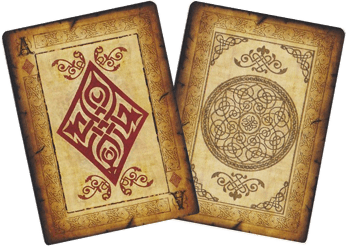 The game of blackjack, originally called twenty-one, can be traced back to 1601. A card game where players try to reach a score of 21 is referenced in a short story by the author of Don Quixote, Miguel de Cervantes, titled Rinconete y Cortadillo. Other references to the game appear in France and Spain around the same period.
By the time twenty-one was introduced in the United States, bonus payouts were starting to be offered by casinos to entice players. Odds of up to 10 to 1 are reported as being given to players holding the ace of spades and a black jack. The popular version played all over the world today, blackjack, was born. Whilst the odds of 10 to 1 for blackjack have disappeared, the rules of blackjack today state that any ace paired with any card valued at 10, regardless of suit, are paid out as blackjack.
More recently, online casinos offering many variants of the much-loved game of blackjack have surfaced. Bonus Blackjack is played with only two decks of cards, reducing the house advantage to just 0.46%. It's a popular choice for online players as the rules are exactly the same as regular blackjack, and therefore the same strategies can be used. Seven-card Blackjack is also popular with online players. This variant rewards players for knowing when to place side bets that can return huge payouts. Pontoon, an English derivative of the twenty-one format, differs slightly from the rules of blackjack in the UK. It is often more difficult to beat the dealer, but the payout is higher than in blackjack.
FAQs
We hope this page has answered any questions you might have had regarding the rules of blackjack. Below are some of the most frequently asked questions we've received, to help clear up any remaining queries you might have.
When should you hit or stand in blackjack?
Typically, you should always hit on 11 or less ad stand on 17 or more. Obviously, things will differ depending on the variant and rules in play.
Do dealers have to hit on 16?
Yes. The dealer must always hit on 16 or under, and has to stand on 17 or higher. In certain circumstances these rules might differ, but it will usually say so on the table.
How do you win blackjack?
There are many ways to win blackjack. To learn more about strategies you can use in blackjack, check out our section on basic strategy.
Are you allowed to count cards in blackjack?
Contrary to what some players believe, it is absolutely legal to count cards. Be warned though, casinos naturally don't take too kindly to players improving their edge through card counting, so if you count cards at a land-based casino table you might be asked to leave the game.
Downloadable Content
Blackjack Rules

Blackjack Side Bets

Blackjack Variants