Your Guide to the Best Jackpot Slots Online
For slots players, it's all about the chase. We're all chasing the same thing. The flashing lights, the musical ecstasy. The jackpot. There's no bigger thrill than cracking a jackpot slot machine and the bigger the prize, the bigger the buzz. Today, progressive jackpot slots are creating multi-millionaires all over the world. A big win can change your life, and it is happening to people every day.
This articles answers the following questions:
What jackpot types are there in online slots?
What are some of the most famous jackpots in land-based casinos?
What are the biggest online jackpots today, and where can you win them?
Heard enough? Ready to try your luck at taking down a million pound prize? Try our recommended casino for jackpot slots here:
.Mega Moolah AvailableThe record-breaking game
.Play The Chic Mega FortuneThe slot oozes bling & pays big
The Biggest Slots Jackpots
November 15 1998$27,580,879

Details:

Casino: Palace Station
Winner: 67-year-old woman
Jackpot: $27,580,879

June 1 1999$21,346,952

Details:

Casino: Caesars Palace
Winner: 49-year-old business consultant from Illinois
Jackpot: $21,346,952

January 262000$34,955,489

Details:

Casino: Casino in Las Vegas
Winner: Cynthia Jay-Brennan, 37
Jackpot: $34,955,489

March 272002$22,618,156

Details:

Casino: Bally's
Winner: Johanna Huendl, 74
Jackpot: $22,618,156

March 212003$39,713,982

Details:

Casino: Excalibur Hotel Las Vegas
Winner: Anonymous (USA)
Jackpot: $39,713,982

May 92009 €6,374,600

Details:

Slot: Mega Moolah Slot
Casino: River Belle Casino
Winner: M. Georgios, 36
Jackpot: €6,374,600

September 232011 €11,700,000

Details:

Slot: Mega Fortune
Casino: Betsson
Winner: Anonymous (Norway)
Jackpot: €11,700,000

February 122012$8,211,861

Details:

Slot: Beach Life
Casino: Betfred Casino
Winner: Anonymous (UK)
Jackpot: $8,211,861

November 232012 €8,635,872

Details:

Slot: Arabian Nights
Casino: Paf Casino
Winner: Anonymous, 40 (Finland)
Jackpot: €8,635,872

January 202013 €17,800,000

Details:

Slot: Mega Fortune
Casino: Paf Casino
Winner: Anonymous
Jackpot: €17,800,000

April 192015 €7,700,000

Details:

Slot: Hall of Gods
Casino: Mr Green Casino
Winner: Anonymous
Jackpot: €7,700,000

August 282015 €7,900,000

Details:

Slot: Mega Moolah
Casino: Zodiac Casino
Winner: Anonymous
Jackpot: €7,900,000

October 62015 £13,213,838

Details:

Slot: Mega Moolah
Casino: BetWay
Winner: Jon Heywood, 26 (UK)
Jackpot: £13,213,838

September 152016 €4,800,000

Details:

Slot: Mega Fortune
Casino: Betsson
Winner: Anonymous, 20 (Norway)
Jackpot: €4,800,000

October 152016 €1,300,000

Details:

Slot: Sweet Party €10
Winner: Anonymous
Jackpot: €1,300,000
What Kinds of Jackpots Are Up for Grabs?
Whether you are pulling levers in a land-based casino or playing Mega Moolah on the bus to work, there are two types of jackpot slots you need to know about. The world of progressive jackpot slots is where the biggest wins are happening. The total sum of the progressive pot grows as players chase the top prize. Providing nobody cracks it, the potential payout will rise and rise. The amount which is paid out can be calculated across a single or multiple slots. Online, major providers run progressive games across a number of casinos to create Mega Jackpots. From each bet players make, a small amount is put into the common prize pot. Crucially, progressive jackpot slots are unlimited, and regularly run into the millions of pounds before being busted.
Unlike progressive jackpots, in-game top prizes are fixed. The payout can build from round to round, but is limited to a pre-determined maximum profit. Online, popular in-game prizes can pay returns up to 500 times your stake. Why then, would anyone chase a limited or capped prize total when there is millions of pounds to be won in the progressive slots market? Aim for the sky, right? Well, progressive slots aren't for everyone. For a start, your chances of making a profit are higher with in-game payouts, and there's potential in this market for a long-game player who's happy to sit and grind out a profit. For those looking to get rich quick, or to take a shot at winning truly life-changing money, progressive slots are where to play. There's such a wide variety of slots available today, finding the right game for you is simple.
Famously Cracked Jackpots On Land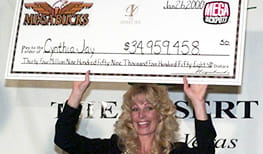 Still the biggest slots payout on record was won back in 2003 in Las Vegas by a 25-year-old software engineer from Los Angeles. The Megabucks machine at Excalibur, a medieval themed hotel and casino at the south end of the strip, paid out nearly $40 million to an anonymous player. Facing odds of just 1 in 16.7 million, the understandably shy record-breaker remains the luckiest man in Vegas slots history.
More recently, although less lucratively, 64-year-old Efren Aguirre scooped a $12.5m Megabucks payout whilst playing at Gold Dust West Casino in March 2016. Originally from Mexico, Aguirre's haul is more typical of the big land-based casino jackpots in Vegas today. A gold miner by day, Aguirre had taken a day off from his job at the Newmont Mining Corp's Leeville mine to play at the casino. He fed $100 into the machine before hitting the top prize on his seventh spin.
The tragic tale of Cynthia Jay-Brennan is one that has haunted superstitious slots players for more than fifteen years. Back in 2000, the then 37-year-old cocktail waitress cracked the second largest Megabucks slot jackpot of all-time after she spun her tips at the Desert Inn (now demolished), Las Vegas. Jay-Brennan received the prize of more than $34 million but was left paralyzed when, just six weeks later, her car was hit by a drunk driver. Her older sister Lela died in the accident, fueling rumors of a winner's curse.
The Biggest Jackpot Cracked Online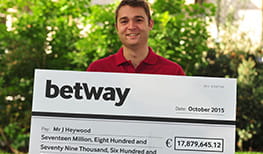 Due to the ease of anonymity on the internet, online and mobile jackpot hunters don't make the headlines as often as those getting lucky in Las Vegas or at other land-based casinos. However, there have been some notable recipients of top prizes turning up in the last couple of years.
British soldier John Heywood became an overnight millionaire after winning £13.2 million playing Microgaming's Mega Moolah slot in October 2016. The 26-year-old from Crewe, Cheshire, took the top payout on a 25p stake on Betway.com. Heywood, who has toured Afghanistan, became the biggest ever online slots winner and remains one of the most famous success stories today. Mega Moolah, the now infamous progressive slots game, has paid out no less than six jackpots over £10 million since September 2015 and remains the go-to place for those chasing life-changing payouts. You can enjoy Mega Moolah online at Mr Green Casino.
Hall of Gods, a popular Norse mythology video slot – where you delve into the world of Scandinavian gods and mythical creatures – has been busted for big money three times since April 2015. Hall of Gods Mega Jackpots tend to be paid out around the £6 million mark but with spins starting at 20p, expect popularity to grow with this game. You can play Hall of Gods online at Casumo Casino.
Playtech's Sweet Party Slots, a game that will be easy on the eye to fans of the mobile hit Candy Crush Saga, provides a more frequent payout opportunity to players. The game paid out over £1 million three times in October alone, including twice in three days. With an RTP rate of 93.7 percent, Sweet Party builds its progressive jackpots pretty quickly. With such a huge variety of slots available, there's more than one way to chase jackpots online. Whether you play to grind out a profit, or chase the big payoff, the big online casinos have something to play. Take a look at our guide to the best online slots or if you're ready to jump right in, we recommend checking out the highly rated William Hill Casino.