From Video Slots to Fruit Machines, What's the Difference Online?
Slot machines have been around for decades. Today, they still make up around 70 percent of a Las Vegas casino's income. More recently, improvements in computer technology have revolutionized the slot machine and online slots now come in all shapes and sizes. There's everything from complex video slots to traditional fruit machines online. Movie franchises are also getting in on the act. There has never been more choice for online gamblers, but if you're just entering the world of new online slots, where do you start? Let's break down this array of games into four main categories starting with the delectable mix of online slot categories available.
Fruit Machines Online
For more than 100 years, fruit slots have been synonymous with gambling. When computer chips became available, and gambling went online, fruit machines were adapted for the next generation. By maintaining the tradition of using fruit symbols, fruit slots offer a little nostalgia to the modern player. As a general rule, although not exclusively, the following fruits are used: lemons, cherries, apples, grapes, bananas, strawberries and watermelons. Fruit machines online tend to have three to five pay lines, as per tradition.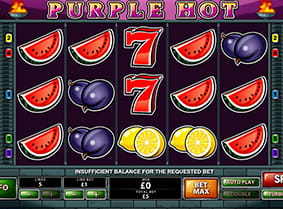 +
Purple Hot
Purple Hot is a typical example a modern game true to the classic fruit machine formula. Simple and straight-forward, the learning curve for this slot is short. The game is equipped with five reels, three rows, and just five pay lines. Hitting Five lucky 7s will payout up to 5,000 times your stake, and there is a progressive jackpot to play for too. In a more modern twist, there is also the option to gamble any winnings by doubling up or playing with half the win. The gamble option appears after each win, and it's up to you to use it then or later. There is an option to collect at any point during this bonus play and return to the main game. The banana also acts as scatter symbol, substituting symbols to create a winning pay line.
Information:
Five reels
Banana as scatter symbol
Developed by PlayTech
Five pay lines
Huge progressive jackpot
Playable at Betfair
Cleopatra Slots: The New Online Slots
Since the introduction of computerized slots, adventure games have continued to rise in popularity. The change from moving-part machines to screen-based games meant that the fruit symbols could be replaced with anything. Modern games involve a complex blend of symbols based around a common theme. Adventure-style slots, such as the popular Cleopatra slots, often include wild and scatter symbols to vary the play. They can take a little more getting used to at first, but benefit from increased longevity. Progressive jackpots are common and multi-million pound jackpots are paid-out frequently.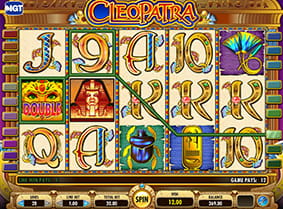 +
Cleopatra
From its humble beginnings in the land-based slot machine market, Cleopatra has become one of the most popular online slots in the UK today. Inviting several follow-up games as a result, Cleopatra's later iterations include a progressive jackpot version as well as one with upgraded graphics! The game is played across 5-reels and 3-rows, and comes packaged with a variety of special features, free spins and bonus rounds. With a maximum win of up to 10,000 times the original bet and an RTP of more than 95%, it's easy to see why this game is so well-loved. There's no progressive jackpot in this particular classic version, unfortunately, but Cleopatra is a fan's favourite that delivers with consistency.
Information:
5x10002x2003x302x200
5x5004x1003x25
5x3004x503x15

5x2004x403x10

5x1504x303x5
Play Here!
Sign Up and Try the most popular IGT slot games online! ->
Franchise Slots
We've come a long way from fruit and lucky 7s. Today's video slots market is full of popular franchises allowing marketing execs to take their biggest movies, TV shows and artists into the gaming world. Hit show Game Of Thrones is now offered by some vendors, as is the iconic comedy cartoon South Park. In the music space, Motorhead and Guns N' Roses games come with licensed soundtracks. Franchise slots put presentation at the forefront of the experience, and the audio experience here trumps everything else out there in the new online slots market.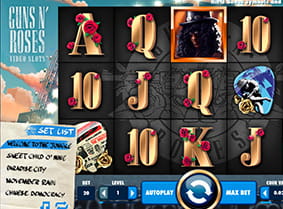 +
Guns N' Roses Slot:
The intro video alone to this NetEnt slot is worth having a look at, setting the scene right with iconic concert and video snippets. There are five rock 'n' roll themed modes named special features, like Encore Free Spins and a Crowd Pleaser Bonus, including expanding wilds.  A multiplier helps you make the most of your spins. Visually, this is as good as video slots get, with crisp graphics and vibrant colours. A mixture of face-cards and memorabilia such as vinyl records and branded plectrums make up the symbols. The best part, though, is the option to choose from a set list of five official Gun N' Roses tracks to listen to whilst you play, including Welcome to The Jungle, Sweet Child O' Mine and Paradise City.
The Latest Video Slots: 3D Slots
The latest development in online video slots is the introduction of 3D technology. Don't go into this thinking it's going to be like the IMAX though. The 3D games are still a novelty at this point, but the technology is improving and as it becomes more mainstream expect to see popularity rise. The games often feature a 3D character who can interact with the symbols. Not all online casinos are offering 3D graphics yet, but those that do come with games similar to the 2D video slots format.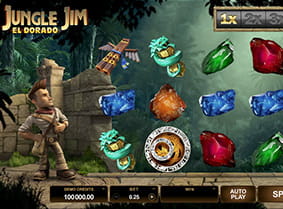 +
Jungle Jim El Dorado:
Jungle Jim El Dorado is a visually attractive five-reel, 25-payline 3D slot game featuring macho treasure hunter Jungle Jim. The game will feel familiar to fans of the Uncharted video games on Playstation – Jim is clearly modelled on Nathan Drake – with relics and exotic gems making up the symbols. Set in the middle of a jungle, you'll love the vibrant graphics and life-like feel of the raiforest sounds. The Rolling Reels features is a definite plus here, as it can award multiple consecutive wins. The cascading reels and Jim's fidgety sideline antics is where the 3D visuals really make a difference. Up to 5x multiplier is possible, and free spins are up for grabs with three Scatter symbols. Wild symbols complete this action-packed online slot game.
How to Choose the Right Fit for You
With so much to choose from, it's easy to become overwhelmed. If you're completely new to bonus slots, you might find this glossary for online slots on the terms of the industry useful. I recommend asking yourself what your goal is. If you are playing for fun, you might want to go down the video or franchise route. If you are playing to win big, look for bonus slots with a progressive jackpot. Alternatively, for those willing to grind out a profit from smaller wins over a prolonged period, check out my guide to RTP rates for online slots.